Your turn to book the hotel? Now you can out-do their expectations.  With rooms in castles and forests on offer, why settle for less!  Burgundy affords some incredible scenery and historic architecture, which you can now enjoy for your entire trip.  We've put together a list of the very best Airbnbs in Burgundy, whether you're looking for luxury or tranquility, this winemaking region has you covered.Don't dream of the caste.. live in it!   Historic Burgundy retains many castles and historic buildings from several centuries ago.  Some business owners have had the clever idea of vacating some rooms (or even entire castles!) and placing them on Airbnb for rent.  So you can be Lord of a room, wing or even the entire manor if you so wish.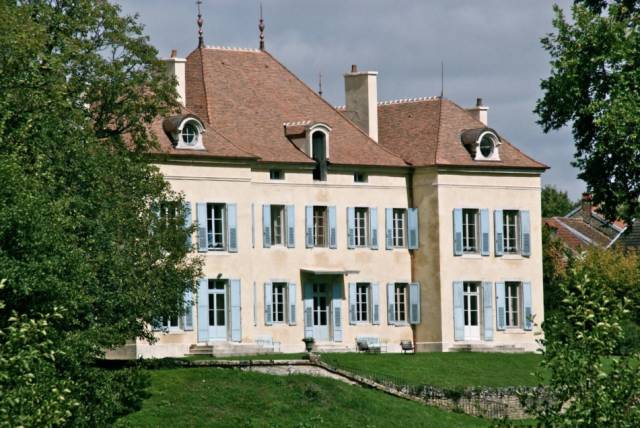 This 19th-century castle built in a simplistic style, comes with eight hectares of large gardens and extensive lawns.  Inside the house, guests can enjoy features such as a spiral staircase, retro furniture as well as a bright and spacious kitchen. Not only is it the best choice for a luxury short-term rental, the outdoor open space would make it a dream wedding destination.  The castle is just 20 minutes by car from Dijon, Beaune and other major cities in Burgundy.  Homeowners also provide wine tasting lessons, cooking classes, and many other activities.
* €1,500/ night, there are 10 suites, which can accommodate 32 people. Address: Barbirey-sur-Ouche, Burgundy, France
Built in 18th century this recently renovated chateau sits at the foot of the unique nature on offer at Morvan park, 45 km from Beaune.  The interior of the property offers funky, modern design which integrates seamleassly with the period features and exposed brick walls. The building is split between two layers, a total of 750 square meters.  There are five different styles of bedroom, enough to accommodate 12 people at the same residence.  Homeowners also plan a variety of activities for the guests, including wine tasting, hiking, enjoying the three Michelin star cuisine, or joining the locals at the farm to purchase seasonal fruits and vegetables; a variety of programs that lets you see the every aspect of Burgundy.
* €500/ night, there are five suites that can accommodate 12people. 
The villa is located in Mercurey and was built in the 19th century. The chateau was designed in the Haussman style, interior decor is very modern in style, using minimalism to take advantage of the spacious and bright atmosphere.  Indoor gym, outdoor swimming pool, steam room and other modern amenities are also available.  The most wonderful element of this property are the unspoiled views of endless vineyards, reaffirming that you are truly in the heart of wine country.
* €950/ night, 8 bedrooms with separate baths, which can accommodate 15 people. Address: Rue de Jamproyes, Mercurey, Burgundy, France
Located just ten kilometers south of Dijon, the Chateau Longecourt can be called a castle in the truest sense.  Built in the 12th century and later renovated by renowned architect Nicolas Lenoir, the building retains an incredible authenticity which is mirrored by the décor throughout. The whole property is a museum dedicated to the styles of the 17th century, with portraits throughout the hallways giving a glimpse at the people who enjoyed it all those years ago. It now takes the form of a single hotel room rent, with no option to rent the entire castle.* €130-160/ night for 2 persons. Address: A Rue du Château, Longecourt-en-Plaine, Burgundy, France
Looking for a little bit more adventure?  Immerse yourself inthe Burgundy "paysage" with these rustic answer to your accomodation needs. Scattered amongst mountains, forests and lakes these cabins are truly the best way to engage with nature.  Whether you're looking to take on the outdoors or relax in the peaceful serenity of this majestic wine-makinglandscape, a cabin is your key to paradise.
This lovely chalet is found at the southern end of the lake in the Morvan Natural Park.  In addition to the unique scenery, cabins will give you the space needed to relax.  Wake to the stunning lanscape that surrounds your hut before enjoying breakfast on the balcony overlooking the water before bathing in the lake.  Enjoy time standing still in your own corner of utopia.  Cabins are typically more popular for summer breaks, but in winter the snow-covered roof adds a charming magic to the experience.  If arriving from Beaune, the drive to Morvan Natural Park takes little over an hour.  A very short trip to reach total solitude.* €167 euros / night for 2 persons.  Address: Marolle, Saint-Didier-sur-Arroux, Burgundy, France 
Lakeside cabin in forest setting
Comfortable beds and even Wi-Fi coverage in these lakesidecabins.  The chalet is located right in the heart of Morvan Natural Park, neighboring Chaumecon Lake, an excellent spotfor a rafting adventure.  The only drawback is that given its proximity to the lake, this property does not accept children under the age of 14, meaning this is a more suitable environment for an adults only trip.
* €124/ night, up to 4 people. Address: Brassy, Burgundy, France 
This cabin is more than twenty kilometers north of Blanot, the drive from Beaune taking about an hour.  Built from the ground with wooden supports, like Hunan stilts, makes for an extremely effective defensive mechanism, meaning no need to worry about unwanted pests or flooding.  Take a deep breath in the mountain scenery, which appear as delicate paintings through the window frames of the perfectly decorated rooms.  Whether taking in the mountains on a hazy morning or catching the sight of animals bolting in the distance, this cabin ensures an ideal location to take in the view.
*€83/ night, up to 4 people. Address: Blanc, Burgundy, France
Accompanied by wine, day and night
We are in wine country, and being surrounded by wine day and night, for a Burgundy enthusiast would really be heaven.  Below are properties where the grape takes precedent, and you can fully indulge your passion for wine.
Vineyard View in Chateau de Comblanchien
Located South Nuits St Georges south (Nuits St Georges). From the room you can enjoy an unobscured view of the vineyards.  Wake up to the sun pouring over neat rows of vines, and at night admire the view of the vineyards bathed in moonlight.  There really can be no better sight.  With the vineyards so close, you'll be powerless but to fall in love with the area.  Take part in wine activities and tastings in order to benefit from the full Burgundy wine experience.
*€98/ night, a 45-square-meter individual room accommodates 2 people. Address: Rue des Carrières, Comblanchien, Burgundy, France
La Passerelle des Corton "Grand Cru"
The house is located at the foot of a mountain, 5 minutes by car from Beaune and well within reach of Aloxe-Corton vineyards and castles.  The owner, Tun, even suggested that a guest could sneak into the castle cellartasting- the jury is out as to how true this might be.  The house is set over two floors, the first floor having been just recently renovated. Car rental is available in Beaune, to allow easy access to the many delights this part of the French countryside has to offer.
* €103/ night, there is a separate bedroom, which can accommodate 2 people. Address: Rue des Corton, Aloxe-Corton, Burgundy, France
Private Cruise & Wine Charters
Cruising through your holiday, sampling fine wines and indulging in the finest delicacies Burgundy has to offer, seems like some sort of dream. However, on Airbnb there is such a private charter service, where you can spend your trip coasting between Dijon and Beaune in Burgundy, taking part in wine tours and relaxing on the river.  Custom wine tasting, gourmet meals and even an on-deck jacuzzi are some of the qualities that make this option really spectacular.  What better way to immerse yourself in the Burgundy countryside than by cutting through the heart of it, floating along the majestic canal. The old style boat is fully equipped with air-conditioning and central heating so no matter what time of year you choose to travel you'll be taken care of.  The owners also arrange activites such as vineyard tours and cycle trips- to make sure you don't become too used to your sea-legs.
* € 3,400 / night, up to 6 people. Address: Quai Nicolas Rolin, Dijon, Burgandy, France
No matter where you decide to spend your nights, whether living in a castle or achalet by the lake, the natural and cultural delights of this region are guaranteed to ensure a memorable journey.